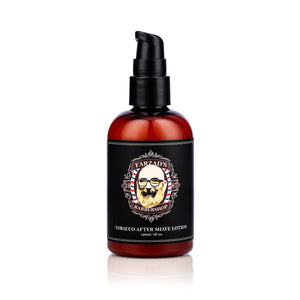 4 fl oz. | 120ml | Made in Canada

NATURAL INGREDIENTS | HEALING | TOBACCO SCENT
The ideal complement to
our exclusive shave cream
by revered Vancouver-based barber,
Farzad Salehi
, this lotion's perfect for soothing skin post-shave. It's fortified with coconut oil and witch hazel to heal nicks, and it packs a masculine tobacco scent, to boot.
| WHOLESALE | 
Great addition to your retail selection; MSRP $26.00
Professionals, please login to see wholesale and backbar.
ORDER MINIMUM OF 6
+Directions

Once you splash on some cold water post-shave and dry up, pump a beer bottle cap's worth into your palms and fingers then massage your face and neck until it's gone.
+Ingredients
Aqua, Aloe barbadensis gel, Cocos nucifera (coconut) oil, Simmondsia chinensis (Jojoba) seed oil, Hamamelis virginiana (witch hazel) extract, Glycerin, Phenoxyethanol & Ethylhexylglycerin, Allantoin, Tocopherol, Polysorbate 80, Triethanolamine, Melia azadirichata leaf extract, Hydroxyethylcellulose, Acrylates/C10-C30 alkyl acryl ate cross polymer, Carbomer, Disodium EDTA, Titanium dioxide, Citrus bergamia (bergamot) essential oil, fragrance.