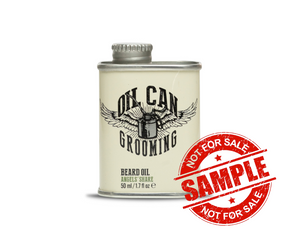 BACKBAR*: For professional use only - Not for resale. Some backbar units may have slight packaging imperfections such as scratches, dents or discolouration. Contents are the same great quality you have some to know and trust.
 
IMPORTANT BACKBAR TERMS OF USE: Discounted units marked 'NOT FOR RESALE ' are available for purchase and will be fulfilled on orders with a sensible retail to backbar ratio.  Orders will be flagged and partially or fully refunded if we see abuse of our backbar program. Understand that it is intended as a tool for your retail success and NEVER under any circumstance to be sold direct to consumer. Units are priced at loss to our business to offer more opportunity in yours.  Your co-operation is appreciated.

50ml | Backbar 


BEARD OIL | AMERICAN OAK & CITRUS SCENT
In the spirit of Whisky production, this Beard Oil scent is rooted in tradition and blended to evoke fine dark liquor. An intoxicating mix of American Oak & Citrus, reminiscent of barrel-aged bourbon. Beard Oil promotes healthy growth and conditions the hair and skin underneath. Used daily your beard will feel softer and well-maintained. And due to their be spoke scents, our beard oils act like a cologne too.
 1.7 oz | 50ml | Made in United Kingdom


BACKBAR ONLY | NOT FOR RESALE
 + Directions
Warm desired amount in hands and massage well into your beard - between 2-4 drops dependent on the length and thickness. Our unique dropper is designed to drip with precision. For best results use on a freshly washed and towel-dried beard.
+ Ingredients

Vitis Vinifera (Grape) Seed Oil, Argania Spinosa (Argan) Kernel Oil, Caprylic/Capric Triglyceride, Simmondsia Chinensis (Jojoba) Seed Oil, Parfum (Fragrance), Tocopherol, Helianthus Annuus (Sunflower) Seed Oil, Benzyl Benzoate, Hexyl Cinnamal, Geraniol, Coumarin, Linalool.
Oil can bearded oil rules