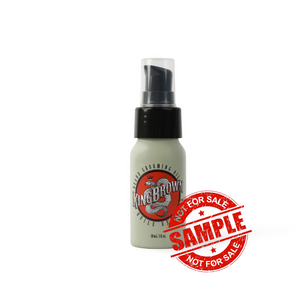 BACKBAR*: For professional use only - Not for resale. Some backbar units may have slight packaging imperfections such as scratches, dents or discolouration. Contents are the same great quality you have some to know and trust. 
IMPORTANT BACKBAR TERMS OF USE: Discounted units marked 'NOT FOR RESALE ' are available for purchase and will be fulfilled on orders with a sensible retail to backbar ratio.  Orders will be flagged and partially or fully refunded if we see abuse of our backbar program. Understand that it is intended as a tool for your retail success and NEVER under any circumstance to be sold direct to consumer. Units are priced at loss to our business to offer more opportunity in yours.  Your co-operation is appreciated.
1.0 fl oz | Backbar
Sweet Almond, Argan & Hemp Oil Formula | Aluminum Bottle with No Mess Dispenser | Native Sandal Boronia Scent

| BEARD OIL | 
Developed in collaboration with Australia's original beard grooming brand SCOOP DELUXE est 2013. 
Utilizing 'Scoops' authentic base formula of sweet almond, argon and hemp oils plus some added KB tweaks and now with a new native West Australian Sandal Boronia scent.
Used as a part of your daily grooming routine our Beard Grooming Oil is formulated to soften and condition both beard and the skin underneath, a healthy beard and skin eliminates 'dry itch' and 'flaky skin'.
30ml Aluminum Bottle with Pump Dispenser
 IMPORTED FROM AUSTRALIA
| 1.0 oz | 30ml |



BACKBAR ONLY | NOT FOR RESALE