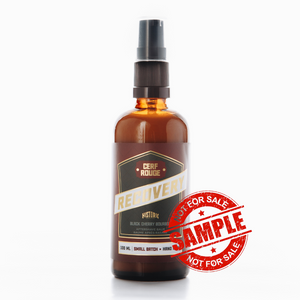 BACKBAR: For professional use only - Not for resale. Some backbar units may have slight packaging imperfections such as scratches, dents or discolouration. Contents are the same great quality you have some to know and trust. 


IMPORTANT BACKBAR TERMS OF USE: Discounted units marked 'NOT FOR RESALE ' are available for purchase and will be fulfilled on orders with a sensible retail to backbar ratio.  Orders will be flagged and partially or fully refunded if we see abuse of our backbar program. Understand that it is intended as a tool for your retail success and NEVER under any circumstance to be sold direct to consumer. Units are priced at loss to our business to offer more opportunity in yours.  Your co-operation is appreciated.

100ml | 3.38oz | Backbar 
Top aromas of black cherry, vanilla, double over to a distinct dry down of smoke, spiced chocolate & leather. Sooth, Moisturize & recover inflamed skin post shave with this unique formula of dragons blood & hyaluronic acid.  Highly effective for minor burns, nicks & skin abrasions. Meant to be applied topically. 
Vegan | Paraben Free |  Never Tested on Animals | No Harsh Chemicals 


MADE IN SMALL BATCHED IN ONTARIO, CANADA
| 100ml | 3.38oz |


BACKBAR | NOT FOR RESALE
 + Ingredients
Distilled Water, Butyrospermum Parkii (Shea Butter) Fruit, Aloe Barbadensis Leaf Extract, Glycerin, Hamamelis Virginiana (Witch Hazel), Mangifera Indica (Mango) Seed Butter, Stearic Acid, Allantoin, Hydroxyethylcellulose, Vitis Vinifera (Grape) Seed Oil, Simmondsia Chinensis (Jojoba) Seed Oil, Croton Lechleri Sap Extract (Dragons Blood), Cocos Nucifera Fruit Extract (Coconut), Xanthan Gum, Menthol, Lonicera japonica Thunb. Extract (Honeysuckle), Hyaluronic Acid, D-panthenol, Phenoxyethanol, sorbic acid, caprylyl glycol, Propanediol.Fragrance, Fragrance, Juniperus virginiana Oil, Lavandula officinalis Oil, Melaleuca Alternifolia Oil, Rosmarinus Officinalis Oil, Lime Oil, Pimenta racemosa Oil, Pimenta Officinalis Oil, Cinnamomum Verum, Syzgium Aromaticum L, Citrus Aurantium Dulcis Peel Oil, Vetivera Zizanioides