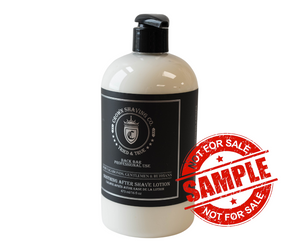 BACKBAR: For professional use only - Not for resale. Some backbar units may have slight packaging imperfections such as scratches, dents or discolouration. Contents are the same great quality you have some to know and trust. 
IMPORTANT BACKBAR TERMS OF USE: Discounted units marked 'NOT FOR RESALE ' are available for purchase and will be fulfilled on orders with a sensible retail to backbar ratio.  Orders will be flagged and partially or fully refunded if we see abuse of our backbar program. Understand that it is intended as a tool for your retail success and NEVER under any circumstance to be sold direct to consumer. Units are priced at loss to our business to offer more opportunity in yours.  Your co-operation is appreciated.

16 fl. oz. | 475 ml | Made in Canada
Backbar Jug


SOOTHING | LIGHTWEIGHT | WITH ORGANIC ALOE
No one likes a greasy after shave, which is why this is anything but. It's also made lightweight in composition and threw in some witch hazel, so it'll absorb fast while soothing any redness post-shave.
 BACKBAR ONLY | NOT FOR RESALE 
 +Directions
Once you've splashed on some cold water post-shave and have dried up, pump a beer bottle cap's worth into your palms then massage your face and neck until it's gone.

 +Ingredients
Aqua, Aloe barbadensis gel, Cocos nucifera (coconut) oil, Simmondsia chinensis (Jojoba) seed oil, Hamamelis virginiana (witch hazel) extract, Glycerin, Phenoxyethanol & Ethylhexylglycerin, Allantoin, Tocopherol, Polysorbate 80, Triethanolamine, Melia azadirichata leaf extract, Hydroxyethylcellulose, Acrylates/C10-C30 alkyl acryl ate cross polymer, Carbomer, Disodium EDTA, Titanium dioxide, Citrus bergamia (bergamot) essential oil.

Almost Universal
This aftershave lotion is extremely effective in subduing redness and discomfort with a wide range of clients regardless of skin type. It's low to barely-there fragrance makes it play well with any bespoke aftershave, so a barber can switch it up during the day. Works even better after Crowns' hot lather machine pre-mix!